Blog
How Flooz reduced CAC by 85%?
Cookie3's Campaign Manager and CRM allowed Flooz to reduce Customer Acquisition Cost significantly.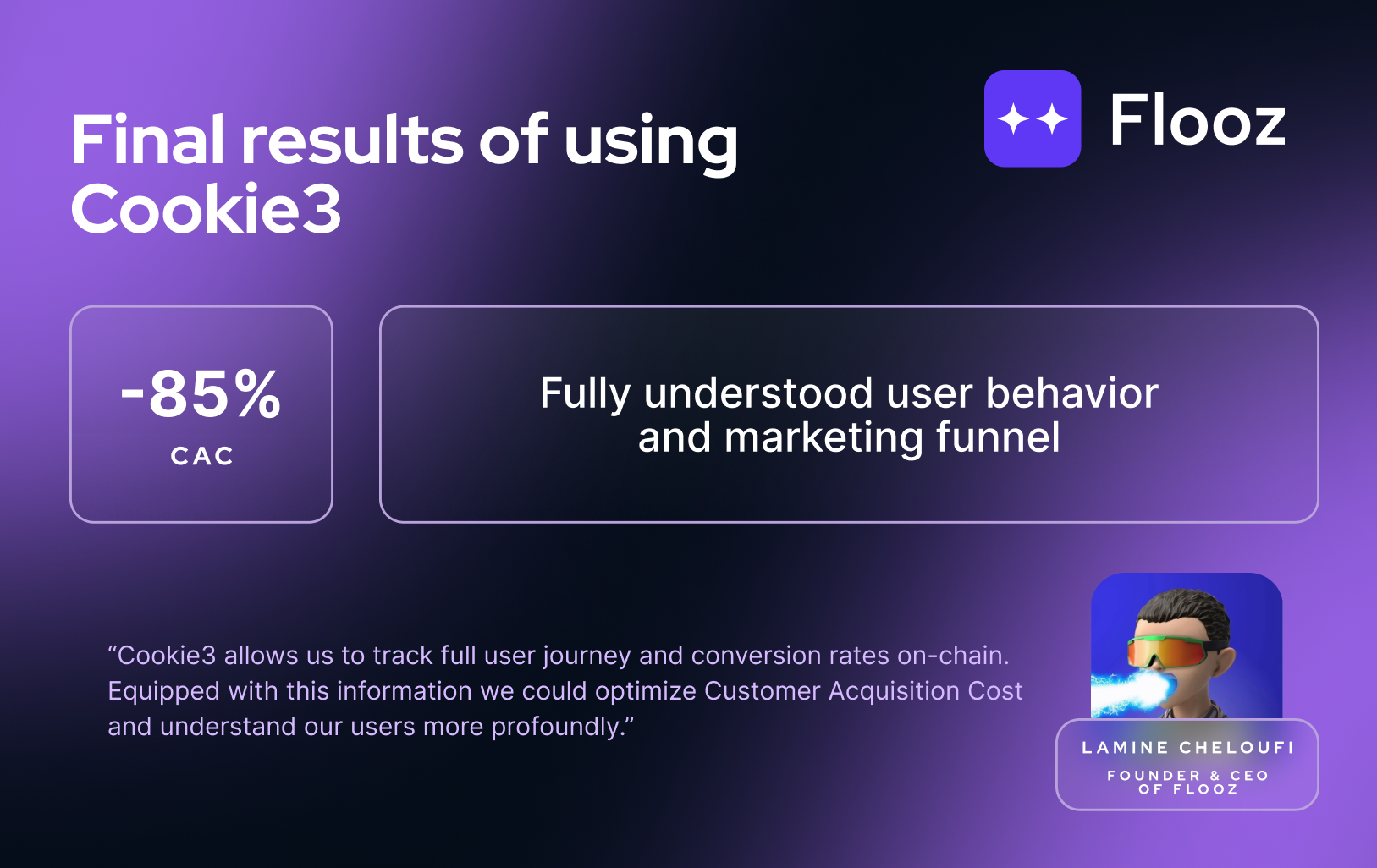 What challenges did Flooz face?
Understanding how particular channels and further, specific marketing campaigns, performed. 

Assessing quality of the traffic on both top and bottom of the marketing funnel.
How did Flooz address the challenges?
First step: Analyze marketing campaign to optimize CAC
Flooz utilizes numerous user acquisition channels, including Twitter, quests, PPC campaigns, and more. Thanks to Cookie3 Campaign Manager, they were able to meticulously track each campaign, monitoring user engagement from the first click through to the final on-chain transaction.
Flooz effectively compared Customer Acquisition Costs (CAC) across various channels and focused their efforts on the most efficient campaigns.
This simple yet highly effective strategy significantly reduced the average CAC from $2.00 per user to an impressive $0.30, resulting in an 85% budget reduction!
Second step: Understand on-chain user behavior
After determining the most effective acquisition channels, Flooz marketing team asked themselves a question: who are we actually acquiring?
Using Cookie3 Analytics Dashboards, Flooz was able to categorize on-chain statistics by specific campaigns and extract valuable user data brought to the platform by these campaigns, such as: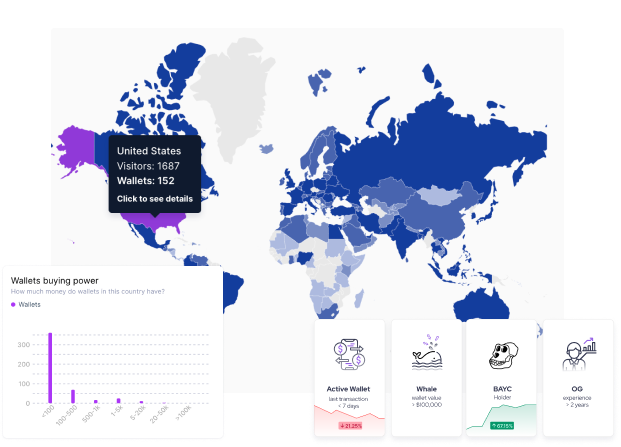 Furthermore, they could narrow this down to demographics and relevant on-chain holdings based on the user's country!
Third step: Strategize the entire marketing funnel
Traditional marketing funnels in tools like Google Analytics fall short for Web3 marketers as they lack connectivity to wallets and blockchain data.

To bridge this gap, Flooz adopted Cookie3 Website Visit Funnels, which allowed their team to map out the user journey in a full picture (dummy data):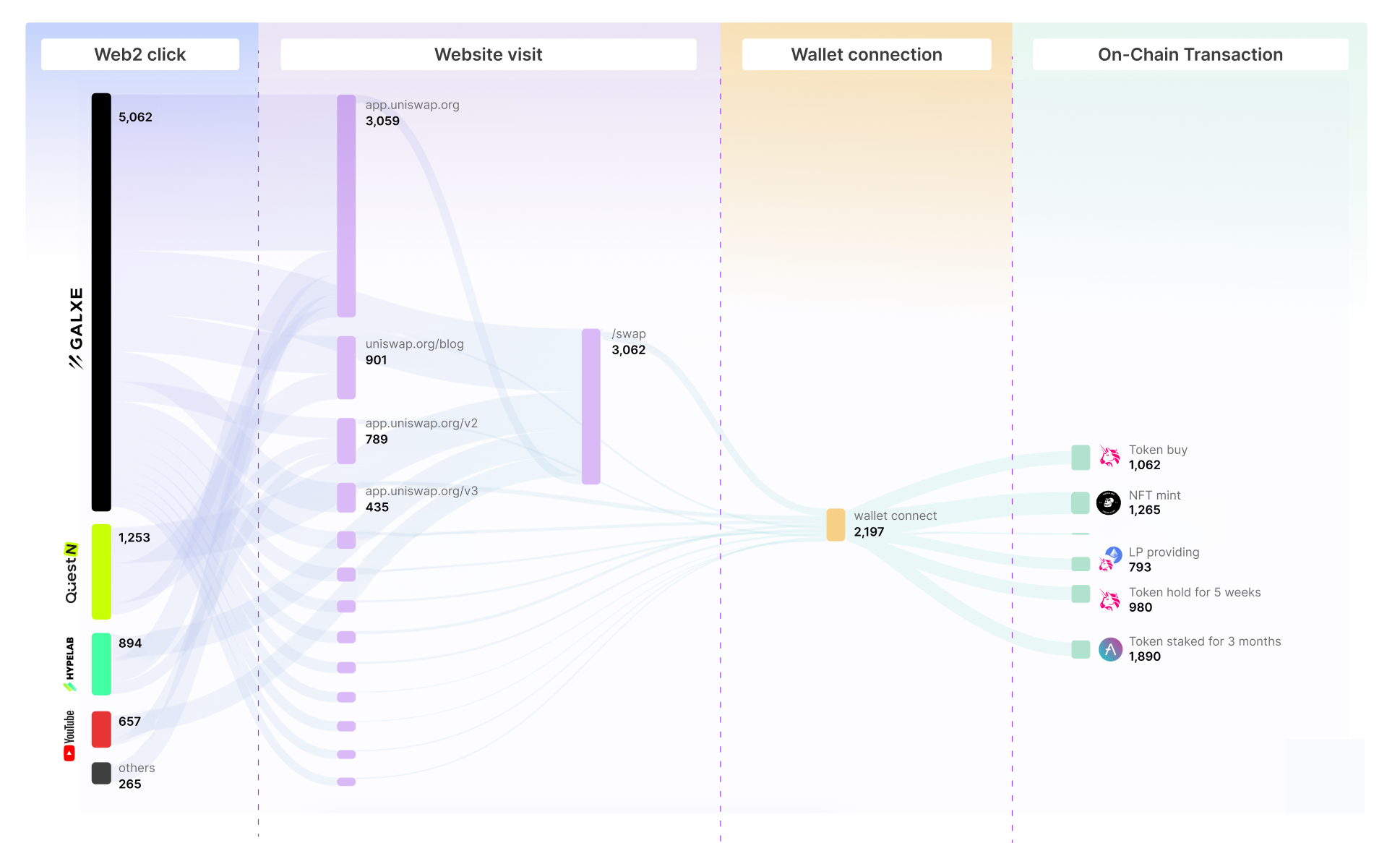 This approach enabled Flooz to optimize specific parts of the funnel. 
Moreover, by incorporating the Web3 aspect, Flooz, a multichain dApp, discovered that Ethereum remained the dominant chain for bottom-line conversions, while BNB lost momentum, and Polygon became the preferred choice for NFTs rather than DeFi.
Flooz: